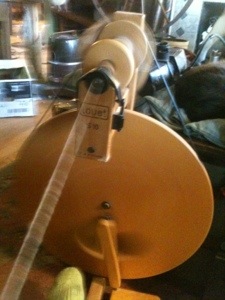 I'm using some handspun yarn for my new shawl. It's a Shetland fleece from Ingrid Painter that I bought at Black Sheep Festival some years ago. I hand carded it and it's not very uniform. I made a shawl out of it but it was too small. I took it apart and let it set.
This shawl is a reproduction of an old Danish shawl. I think the yarn gives it a nice Rustic look. I think of it as a very 1970s project, because it does not look like it was produced by a machine. The problem is that I do't have enough yarn for this project.
I started looking for fleece to buy. December is not a good time to do this. On Etsy, I came across Wing and a Prayer Farm. She had some roving that looked like a good match. I'm in the process of spinning it now. It's been nice to have the wheel out. I've had several spindle projects going, but I think I will finish some of those on the wheel. Will be nice to have some new yarn to play with.