This is what I've been doing today. Green cotton on the akha. Dyed yellow cotton on the Spindlewood akha and dyed pink on the takli

Then there's this project: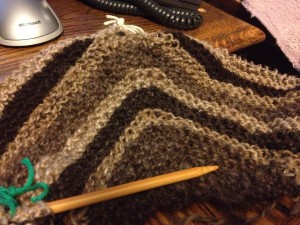 This is mainly spindle spun yarn. I believe it dates back to 1995, when I got heavily into spindles. I can tell it was plied from a center pull ball and it's much too small an amount for me to have done on a wheel. I'm using the browns for the Milk Run Shawl off Ravelry. Any left overs will go with the greys and whites. I want to try and make a blanket for the bed, using the same pattern I used for Lon's blankie. I want to use all this stuff up. I have been going through the bins that have been stored for about 8 years now. I've washed up the fleeces that hadn't been cleaned. I've even combed a bit up and have spun it on the Lark. I'll ply it and do a test knit to find projects for it. I'm pulling out the commercial yarns and trying to sort out some projects for the stuff I want to keep. I am seriously in a spinning mode right now. And I really don't want to work with anything but handspun for a bit.