East Frisian Wool:
Three ply East Frisian yarn.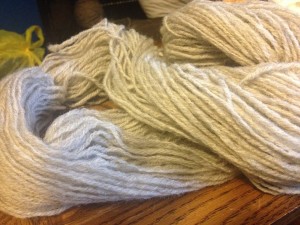 Here's the roving. This is an excellent product. It's from Black Sheep Creamery and they do have an Etsy shop. (The cheese is excellent too!) This is not a soft yarn, in the sense that merino is soft. I've spun this up thicker on another turk as a two ply. I do like it and I will likely purchase more of it.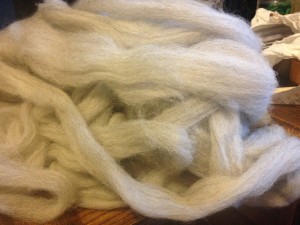 Piper's Journey:
I like this pattern and have made several. When I saw this in the latest SpinOff, I thought "Oh, I like that shawl!" Then I found out it was Piper's Journey and I'd already made it. It's very satisfying to knit. This is a wool/silk blend from Autumn House Farm, probably wheel spun. The last part of it is much thinner than the earlier part. I think I'm just going to use it anyway, since it's on the edging.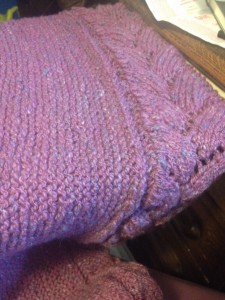 BUT! Do not think you can do this out of a 4 ounce braid! Maybe there is a grist that you can spin for enough yardage and still have it come out okay. But I've tried this twice and every time, I wind up here: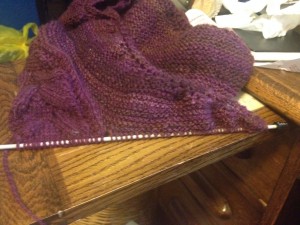 I am out of yarn again. I did buy some more of this fiber from the same vendor, but it's not exactly the same. It doesn't have the brown. And, of course, right now I can't find it anyway. So this will be ripped back and used for something else.
Scrap Socks
This is some sock yarn that I used for a pair of Jeffrey's socks. I just don't have enough for a full pair so I am making the cuffs out of another ball of scrap yarn. These are a bit wild, but will wear okay, I'm sure.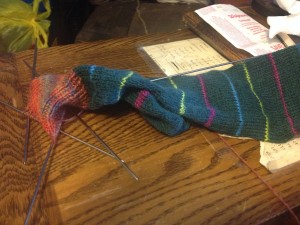 And that's the project update! It looks like I need to think about my next projects, as I will be starting them soon.