This is finally done!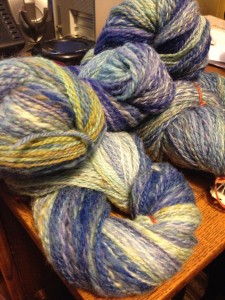 It turned out nicely. Still need a project for this one. I ordered a pound of the East Freisian roving. I think I'll need one more pound for the project I have in mind. It's three ply yarn and it does take awhile to work through that much fiber. Here's the latest shot of the plied yarn: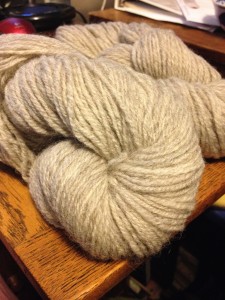 I've picked up a few more Tom Bihn yarn stuff sacks and travel stuff sacks for projects. And I have another Swift. I would love to have one of their travel bags, but the fact is that we don't really travel that much. We usually aren't gone for more than one day. I am planning to pick up some cotton string bags for processed fiber. I think it will be a good way to comb fiber, then spin enough for a project.
I also bought some commercial yarn (Knit Picks Shine) for Decimal. I found I'd bookmarked this link some years ago. The note read "I really should make myself some nice sweaters like this." Since Lon has said something similar, I thought maybe I should do just that. I haven't started on this yet. I am trying to finish Howard's socks (the smaller version).