I am still working on the buffalo, but it's not as much fun as my new fiber (of courser.) Lon shaved his head over the holidays. He's growing it back out but has made a lot of use of his watch cap. He wants the buffalo for a scarf. I am close to plying my first batch of it, so that's something.
I ordered some Southdown/tussah silk from Inglenook Fibers. I love the color and I usually do love down wools.  This is for the Spindlemaniacs challenge.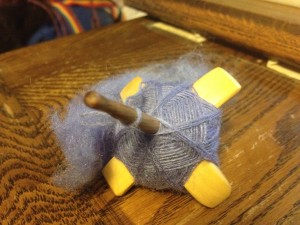 I also got this sample. It's interesting stuff. I think this is the first time I've had holographic fiber in a blend.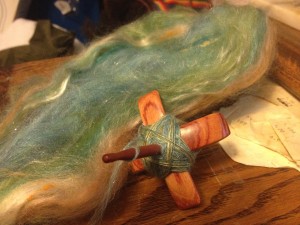 I am also doing socks. I have several of Nancy Bush's books and I think I'm going to focus on the Vintage sock book when I finish my current project. I also want to experiment with knitting socks on two small circulars.
Gentleman's sock in Railway stitch: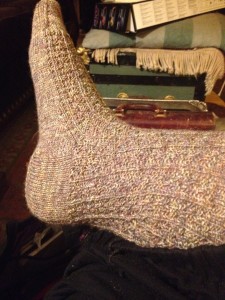 These are the lacy socks from Folks Socks. I'd knit this yarn up as a shawlette (Traveling Woman pattern) but never wore it. I love these acidy greens and just thought it might be interesting in this pattern.