This is how I get into trouble!
Spinning projects:
The three sisters Romney: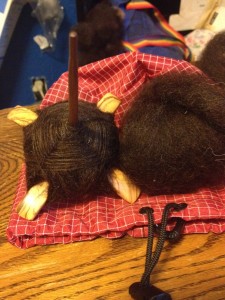 East Friesian: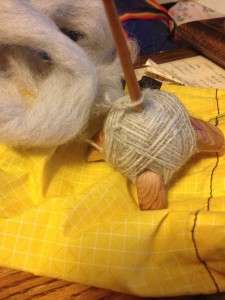 Wine and Silver Falklands from Wintry Flower by Design: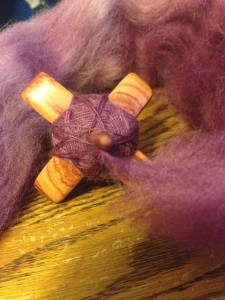 Emily Merino by Greenwood Fibers: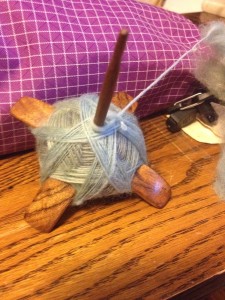 The buffalo and cashmere project: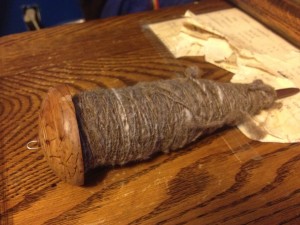 Southdown and Tussah from Inglenook Fibers: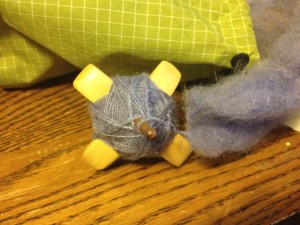 Knitting projects:
I finished the Howlcat cowl. I don't think the yarns I picked worked out well. I should take a picture of it. It's a clever pattern. I don't know what to do with the green socks. I'm reworking the foot, as they just felt big. I'll post more about those separately, when I figure them out.
There's the sweater project from my new favorite designer, Ellen Mason. This is Eileen Mary in Cascade Eco+. I've finished the lower part and need to get started on the sleeves. I like the yarn. It reminds me of Spinnerin, which was a popular yarn when this type sweater was popular. The pattern is well written and interesting to knit. I have plans to do at least two more of her patterns when I finish this. The yarn is a darker red than you can see in this picture.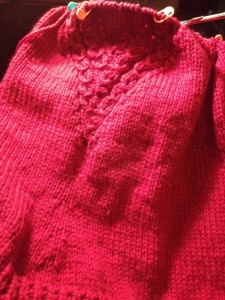 I bought yarn for a shawlette project, but it's not going to work. I wanted red and this is more orange. Will need to find another use for it. I also got some Lorna's Laces Solemate. It has this special fiber that is supposed to keep you from getting too hot or cold. I am going to work up a good pattern for Lon's socks. He has odd feet. They swell, so he needs more room at the top and that makes them look short and square. It should be fun. I can make socks that fit, but so far, they haven't fit as well as I'd like. And I have two sock projects that I want to make for myself. Too bad I can't clone myself!