I haven't been spinning much. I'm on a knitting kick right now.  I've done two Modern Wrappers and will likely do more. They are very simple to knit and comfortable to wear. They use a fingering weight yarn and a fine mohair, which makes a lightweight fabric. It's especially nice if it's a mohair/silk strand. I don't have pictures of me wearing one yet, but will post what I do have.
My other project is a sweater for Lon. It's coming along nicely. This is a wool blend and actually nice stuff. I wanted a sweater he could knock around in.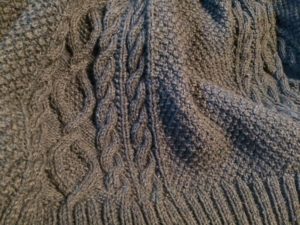 Here's another picture of this project:
The yarn is Sidar Harrap Tweed and is primarily synthetic. I will make Lon a nice wool sweater, but wanted the first one to be easy care. I like this yarn. I've been trying to buy extra, so I can make the Kerry Blue shawl out of the leftovers.
And this guy has now been with us for a year: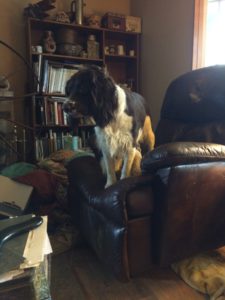 He's frustrating and crazy. He barks too much. Loretta hates him and the cats don't like him. But we are very happy that he lives with us.