I've finished both sleeves on Lon's sweater. I have sewn in one and seamed that side. Still need to sew in the other sleeve, then on to the collar. I really do need to finish this. He could wear it now. I still may need to tweak the sleeves a bit with a gusset. The sleeves are a bit tighter than I'd like.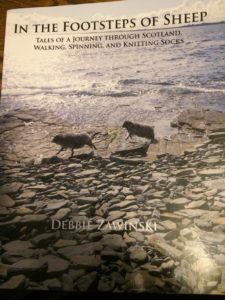 Got a new book today. It's In The Footsteps of Sheep. I've wanted this since I first learned about it. I'm about halfway through it. I like the journey and the patterns. I do think they shortchanged us spinners by not covering the details of the yarn and her tools. I gave it a good review on Amazon, but said I was disappointed that the socks weren't knit in handspun.
And reading about spinning has me plying up a bit of yarn that has been just sitting around.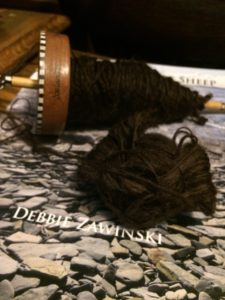 And this knucklehead hopes that you had lots of whipping cream for Thanksgiving! He does not like cranberries, so you can eat those yourself!