I have been knitting a lot. I haven't been spinning much. It's one of those weird things I go through. I had this plan to knit some of the patterns in In the Footsteps of Sheep I have the wool cleaned and combed. I even started spinning a bit of it. But there it sits. I normally like traditional patterns. Right now, I am on a Churchmouse patterns kick. I'm not sure I'll be buying any other patterns. They just seem to fit and I never have problems with the pattern. Normally, I like basic wool. Now I'm knitting with odd stuff. I'm doing my second sweater from Avalanche. It's a wool/alpaca chainette yarn. It's a bit odd but I just love the sweater.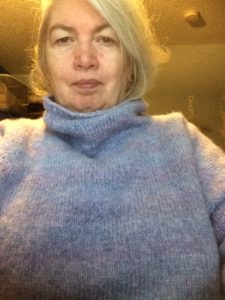 It's not a great picture, but it's better than no picture at all. I have another Classic Elite yarn up for the next project. I'm doing the Easy Folded Poncho in Telluride. That's an alpaca/linen blend with those donegal tweed pieces. It's interesting stuff. I am looking for more weird yarns to do the Simple Tee for the summer. I figure I need a couple of light winter/fall sweaters and a couple of light summer/spring tees. I still need to sew some skirts. I've had one ready to go for months, but still need to hem it. Will see if I can manage that this weekend. I am still working on the shawl, about halfway through it and I have a pair of socks on the needles. I like that Kroy sock yarn. I just am not adventurous right now. I have a sock pattern that works. I find that I don't like wearing the fancy socks as much as the plain ones. (This could be bad for that handspun sock project!) So I am just knitting what works and using the same yarn for them. I don't want to have to rewrite the pattern.
I still don't have a picture of Lon wearing his nice cabled sweater. He really loves it. He'd like a thicker collar so I may try and work on that this weekend. It did turn out nice.