And I have been spinning a little too. I finished the green socks. I have now learned how to do the German Short row heel, which I used on these socks. It looks so much better than the wrapped heel. I also finished these up in the 2 circulars method. I love my double points, but I get tired of having the point protectors drop off. It's just a mess. So I picked up enough Addis to do the 2 circs method (which means 4 circular needles, since I work both socks at the same time.)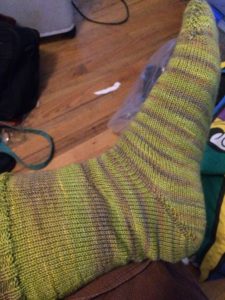 I am close to finishing Lon's socks. These are Solemate, which is supposed to keep you cool when it's hot and warm when it's cold. I love the color. These socks fit much better than any I've done for Lon. I am concerned that they are a bit tight, but his feet swell less in cooler weather. I think we'll be okay but I'll try a different technique on the calf increases next time. I used a German Short Row toe on these. And I am trying magic loop to finish them. I plan to use magic loop to do both socks at the same time, on my next project.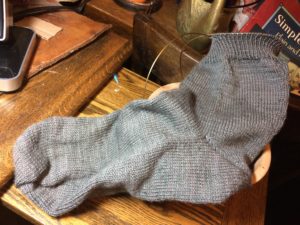 I decided to redo the lower part of the sleeves on my sweater. The weather turned hot and I haven't finished it. That will be the next project as I want to be able to use the sweater when it finally cools off.
I've mostly been spinning up odds and ends. I have the yellow yarn project on my Hatchtown. I should make an effort to finish that one. I'm planning to go to OFFF and picking up another Jenkins spindle. I am pretty well set with spindles. I have a couple that Lon got for me, but need to take pictures before I can post. I can't wait for cooler weather. I just can't take the heat any more.
UPDATE:
I'm going to add the two spindles. First up is a 3-D printed Turkish spindle, weighing in at 8.6g. It's actually well balanced but light. It doesn't seem to backspin, just stops completely. I think this would be great to carry with you. You don't have to worry about the shaft breaking and wouldn't be heartbroken if you lose it.
Next up is something that may not be a spindle. Lon did a little blacksmithing when he was younger, so he's fascinated by the join on this. But I'm not sure it was a spindle. It looks like it was used on some sort of a machine. Maybe something to make rope? It weighs in at 89.5g so it's very heavy before you start spinning. It does work as a spindle and it came from Greece.