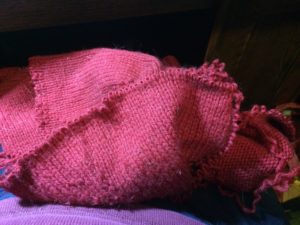 ..I don't care how much Churchmouse patterns cost. When you buy a pattern and it doesn't fit, you have wasted time and maybe money. I don't buy patterns so that I can re-write them. I buy patterns so I can start a project and just knit. This was a raglan and the top part simply did not come up far enough. I ripped it back and reworked it, but it still didn't fit. I don't want to rag on the designer. I still think the design elements she chose are beautiful and other folks seems to have come up with a sweater that fits. But it did not work for me and I can't stand to see this nice yarn wasted. So I am spending more time taking this apart.
For some reason, the pattern police come out every time the Churchmice have a new pattern. Now this is a yarn shop that actually gives away a free pattern with purchase on their anniversary. I have not had any problems with their patterns and they fit. But for some reason, people feel that they should bitch about the price. Every blinking time. If you don't like the price, don't buy it. I find it interesting that someone would spend significant money to buy yarn yet want the cheapest pattern possible. There are lots of free patterns on Ravelry. Pick one out and knit it, be my guest. But seriously, find something else to bitch about. I will continue to vote, with my money, for the folks that turn out patterns that work and don't have to be rewritten.
UPDATE:
I still need to skein up the yarn and wash it, but it's done. And I have dirt and hair all over my skirt. What a mess! I think, with the exception of knitting a gansey, I am done with sweaters knit in one piece. (And I say this having just bought a cardigan pattern that is all one piece.) I don't care for knitting with circulars. You wind up with this big, heavy, unmanageable piece that goes on and on. When you knit individual pieces, you actually finish a piece and move to the next one. The shaping tends to be better than when you knit a single piece. I'm not fond of sewing, but it's just finish work. When I started knitting, everything was knit in pieces then sewn together. And knitting in the round was touted as this great improvement, where you'd be done with the sweater all at once. Yeah, after you've slogged through round after round of several hundred stitches.
I'm knitting differently these days. I buy yarn with a project in mind, mostly. I finish projects. I knit things that I really want to wear and, if I can get yarn on sale, I don't mind if it doesn't last forever. I need lighter weight sweaters and gave away some nice heavy ones.