I finished the Christmas knitting. Got the important things done, although I had hoped to do a bit more. I still have nearly finished socks for Lon. I started a new cardigan, using up the Hemp Tweed I bought for another project. I'd actually finished the poncho but just didn't like the fit. Of course, I had to buy more yarn to do this cardigan: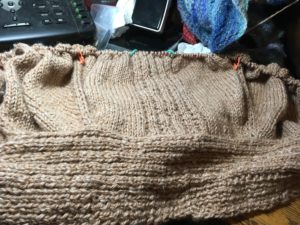 I don't know if I will finish the other cardigan I've been working on. I am concerned about the fit and I am just getting the feeling that it's not working out. I don't have a problem with ripping things out obviously. Some patterns are easier to adjust than others.
I see more sewing in my future and am starting to play around with free motion quilting. I like my sewing machines so much that I have been looking for projects. What I need more than anything is a cutting table. I don't have a good place to cut things out and that is what is holding me back.