Thought it might be nice to post my sewing experiments from this weekend. I am doing the Gibson Girl Blouse by Folkwear. And I will be using some lightweight linen. I am also going with the pin tucks and lace insertion for the front yoke, but am not going to mess with the lace on the blouse. So this is my attempt at using the tucker and inserting lace.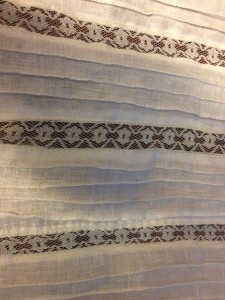 With the tucker attachment, I could set the tuck on the sheet showing the spacing and make the next tuck in th right place. I like tucks, and wasn't sure if I'd want pin tucks here. They have grown on me. I did not iron this as I worked, so they meander a bit.  I tried doing the lace insert two ways. The outside ones were stitched to fabric that was cut and had a narrow hem sewn first. The middle one was sewn, then fabric cut on the back. I didn't want to use that technique, as it calls for using a narrow zigzag to bind the edges. I am trying to do this on my treadles. I could hand stitch those raw edges but will likely zigzag them. You can see what they look like from the back in the image below.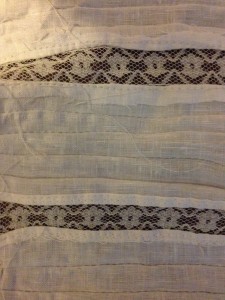 I am having some fun with this project. I've never sewn anything like this. I may not get as many things sewn in time for the wedding as I'd like, but the skirt just needs to be hemmed and the blouse done.