I guess I should never say never again. I was working on a Banana Leaf Shawl with some nice Mrs Crosby Satchel, picked up at the WEBS summer sale. And it looked pretty good: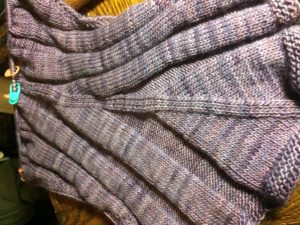 But there can be issues with single ply yarns biasing. And I started to feel like I'd knit this at too tight a gauge and it really needed a yarn that wasn't so stripey. In short, I wanted to do something else. I looked through my favorites and was drawn again to designs by Ankestrick. These are top down, contiguous sleeve designs. I have one on the needles, but hadn't gotten past the underarms. This was partly due to the yarn (I just don't care for cotton yarns) and that I'd had some problems doing the slip stitch design. I decided to try Antler. And so far, it seems to be turning out pretty well.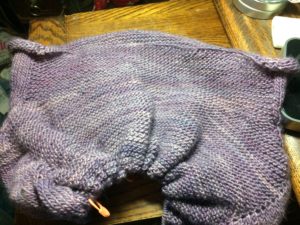 I've picked up several more of her patterns and will be knitting those next. I really like the idea of color blocking. So nice after all that solid color knitting. I just finished a couple of things for Lon's birthday on Monday. First up, the Fair Winds Scarf: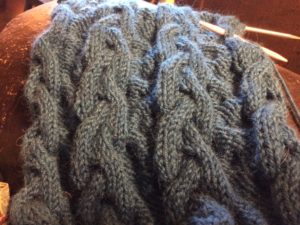 I knit the beanie as well, but don't have a picture of it. I need to block the scarf and weave in the ends. And I did the Henry scarf, out of buffalo/silk yarn: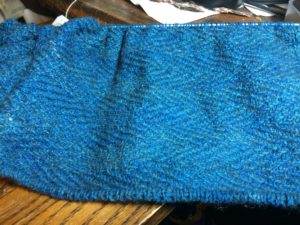 Lon has wanted something in buffalo yarn for over a year. I'm not a fan of the stuff. The two skeins I bought really weren't close in color. I had about 3/4 of an inch to finish with the second skein, so it looks okay. The pattern was interesting and looks great. And I managed to knit it without him knowing about it. I am still working on two scarves for me. One is the Diagonal Lace scarf in Folio and the second is the Fir Cone Shawl I've been working on for several months.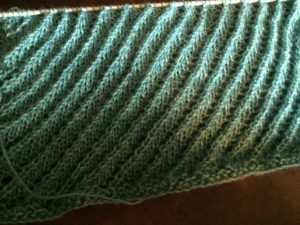 And I did a hat for me and a watch cap for Clyde. Need to do a watch cap for George next. Then it's time to start knitting socks. I want to do another cabled sweater for Lon, with better yarn and a custom fit this time. And a picture of Jack, just to show there's more to life than knitting!